March 11 - 13, 2022
Cherokee Scout Reservation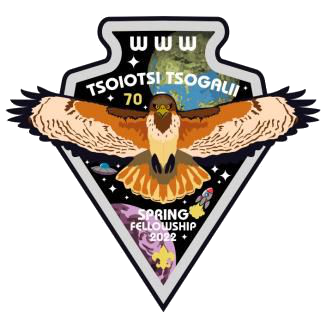 Time is counting down, and you need to book your seat fast!  Spring fellowship is blasting off soon.  Join us on our journey to space March 11-13 at Cherokee Scout Reservation for a weekend filled with excitement, adventure, and all-around fun!  This will be our last event before Conclave, so be sure to attend.
Registration is open, so go ahead and sign up today!
The cost is $25 per person which includes Saturday breakfast, lunch, and dinner, and Sunday breakfast, patch, program materials, and COVID-19 mitigation supplies.  Please register by Tuesday, March 8th at 11:59 PM, so we can properly prepare for meals.
BROTHERHOOD CONVERSION OPPORTUNITY
There will also be an opportunity for Arrowmen who have been Ordeal members for at least 6 months to transition to Brotherhood.
Brotherhood questioning will occur prior to the fellowship via Zoom
The Brotherhood hike and ceremony will happen on Friday
This resource page on the lodge website will help you prepare for the Brotherhood transition.
MEDICAL FORM
COVID-19 MITIGATION STRATEGIES
Scouts will need to complete the COVID-19 Screening form along with a 14-day temperature log.
Scouts will undergo a COVID-19 screening in the main parking lot before entering camp.
Scouts are required to wear a face-covering when they cannot socially distance.
All of the programs will take place outside or under open-air shelters.
As such, Scouts should dress for the weather.
NOTE for adult Arrowmen: BSA Chain Saw Safety Course
The BSA requires all adults who use a chain saw on Boy Scout property or at a Scouting event to complete the BSA Chain Saw Safety Course.
Since many adult Arrowmen support camp on workdays with a chain saw, we will offer this course during Spring Fellowship.
The course starts at 9:00 am and will end at 3:00 pm.
Our camp rangers, Dave Douglas and Steve Allred, will teach the course.
The course is hands-on.
If you are interested in taking the course, please indicate so on the registration form.
For information contact Program Adviser Shelli Luna at shelliluna@bellsouth.net.
Schedule
Friday:
6:00
Staff Meeting
Dining Hall
6:30
Registration / Check In

Review Parts A and B of the BSA Annual Health & Medical Record.
COVID Screening in the main parking lot before entering camp
Set-up camp in campsites - assigned by chapter.
1st Year arrowman sheets due at check-in.

Parking Lot
7:30
Brotherhood Ceremony
Sequola
8:30
Cracker Barrel
Dining Hall
9:00
Stargazing
Activity Field
11:00
Taps / Lights Out
Saturday:
| | | |
| --- | --- | --- |
| 7:45 | Reveille | |
| 8:00 - 8:45 | Breakfast | Dining Hall |
| 8:50 - 9:00 | Assembly & Flag Raising | Flagpole |
| 9:00 - 11:45 | Rotating Morning Sessions | TBD |
| 12:00 - 12:45 | Lunch | Dining Hall |
| 1:00 - 1:30 | Chapter Meetings | Campsite |
| 1:30 - 5:15 | Loose Afternoon Sessions | TBD |
| 3:00 - 4:00 | Patch Auction | Anderson Shelter |
| 5:45 - 6:00 | Flag Lowering (have your field uniform) | Flagpole |
| 6:00 - 7:00 | Dinner and Announcements | Dining Hall |
| 7:00 - 7:15 | Clean Up | |
| 7:15 - 9:00 | Games | |
| 9:00 - 10:30 | Stargazing | Activity Field |
| 9:30 | Cracker Barrel | Dining Hall |
| 11:00 | Taps / Lights Out | |
Sunday:
| | | |
| --- | --- | --- |
| 7:45 | Reveille | |
| 8:00 | Assembly & Flag Raising | Flagpole |
| 8:15 - | Breakfast | Dining Hall |
| 8:45 - 9:15 | Worship Service & Closing | Dining Hall |
| 9:15 | Cleanup by Chapter | Dining Hall |
| 10:00 | Lodge Executive Committee Meeting | OA Lodge |