March 10 - 12, 2023
Cherokee Scout Reservation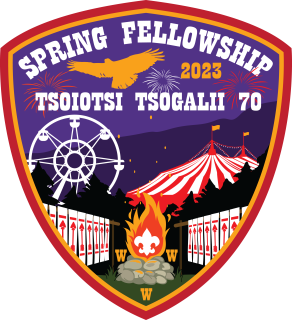 Spring Fellowship promises to be a fun, safe event for Scouts and Scouters alike to join at Cherokee Scout Reservation for a weekend of activities, fun, and celebration. This year's Spring Fellowship will be carnival themed and will be held on the weekend of March 10th through the 12th. We hope you can join us! 
Registration is open, so go ahead and sign up today!
The cost is $35 per person which includes Saturday breakfast, lunch, and dinner, and Sunday breakfast, patch and program materials.  Please register by Tuesday, March 7th at 11:59 PM, so we can properly prepare for meals.
You can download the Schedule and Competition Rules here!
BROTHERHOOD CONVERSION OPPORTUNITY
There will also be an opportunity for Arrowmen who have been Ordeal members for at least 6 months to transition to Brotherhood.
Brotherhood questioning will occur prior to the fellowship via Zoom
The Brotherhood hike and ceremony will happen on Friday
This resource page on the lodge website will help you prepare for the Brotherhood transition.
MEDICAL FORM
NOTE for adult Arrowmen: BSA Chain Saw Safety Course
The BSA requires all adults who use a chain saw on Boy Scout property or at a Scouting event to complete the BSA Chain Saw Safety Course.
Since many adult Arrowmen support camp on workdays with a chain saw, we will offer this course during Spring Fellowship.
The course starts at 9:00 am and will end at 3:00 pm.
Our camp rangers, Dave Douglas and Steve Allred, will teach the course.
The course is hands-on.
If you are interested in taking the course, please indicate so on the registration form.