March 13, 2021
Cherokee Scout Reservation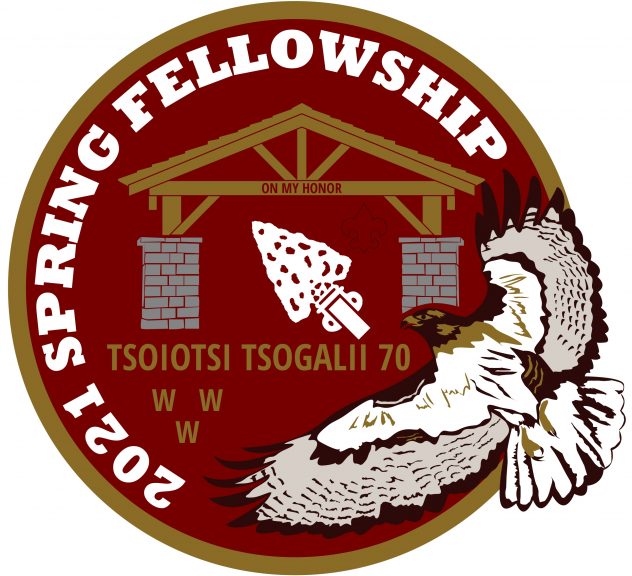 Spring Fellowship is our annual weekend event held each March. It marks the final Lodge event before our Section Conclave in April.  During the day, Arrowmen will participate in a pre-determined activities. We plan to keep participants in groups of 25 and conduct most of the program in open-air shelters allowing natural ventilation.
Activities include: Air Soft Shooting,  American Indian Affairs activities, Leadership training, COPE Games, and visiting the trading post.  There will also be an opportunity for Arrowmen who have been Ordeal members for at least 3 months to convert to Brotherhood. 
Brotherhood questioning will occur prior to the fellowship via Zoom

The Brotherhood hike and ceremony is scheduled at 4:30 PM

This resource page on the lodge website will help you prepare for the Brotherhood transition.
Participants will depart camp before supper.
The cost for this fun-filled day is $20 and includes lunch on Saturday, exciting program offerings, and the event patch. Please register by the Tuesday, March 9, so we can properly prepare for meals.
Schedule
Saturday:
7:45
Registration / Check In

Review Parts A and B of the BSA Annual Health & Medical Record.
COVID Screening in the main parking lot before entering camp
Scouts will be assigned to groups of 25 for the day's activities. Scouts will remain in these groups/bubbles for the duration of the event. Youth and adult Arrowmen will participate in these activities.

Parking Lot

8:30

Flag Ceremony / Announcements

Flagpole

9:00 – 12:00
Morning Sessions
Scouts will rotate among the following program activities:

Low ropes COPE events part 1
Low ropes COPE events part 2
Leadership Development Training
Native American Choker Making
Native American Dance Instruction
Air Soft Shooting

12:00
Lunch
Chapter Meetings

Alamance
Dahlonega Tawodi
Keyauwee
Saura
Tutelo

Anderson Shelter
Delaware
Saura
Dining Hall
Mohawk

1:00- 4:30
Afternoon Sessions

Low ropes COPE events part 1
Low ropes COPE events part 2
Leadership Development Training
Native American Choker Making
Native American Dance Instruction
Air Soft Shooting

 4:30

Brotherhood Ceremony

Elangomat Training

Patch Auction

Flagpole

Dining Hall Shelter

First Aid Shelter

 5:15
Closing Flag Ceremony
Flagpole
 5:30
Depart Camp
Parking Lot
Museum open for visits during the day (10:00 am – 5:00 pm)