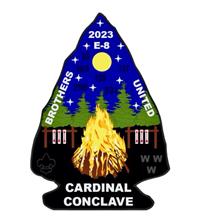 April 14-16, 2023
Camp Boddie, Blounts Creek, NC
The E8 Section Conclave is an annual gathering of over 1200 Arrowmen at a Scouts BSA camp in our Section.  To summarize, it's a great weekend of fun, training, and fellowship!  This year's Conclave will be hosted at Camp Boddie from April 14-16. This year's Conclave will be pirate themed. We hope you can join us!
First Year Arrowman Award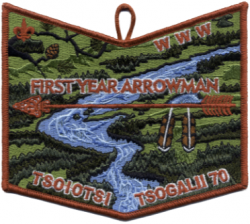 Have you just completed your Induction?
The First Year Arrowmen Award provides recognition for Arrowmen who maintain active participation during their first year of membership. The award requirements are structured to provide guidance and exposure to the leadership and service opportunities of the lodge. Click the link below to take a look at the requirements and print off the pdf checklist to get started earning this special award. Remember you only have one year.
Our most recent communications are linked below. Take a look for the latest update and information.
(Click on the email names to open the full message)
1/19/2023
Spring Fellowship                          Conclave                                  Ceremonies                                Service Announcement
10/03/2022
Fall Induction Weekend
Fall Fellowship
Woodfield Work Day Recap
08/23/2022
NOAC 2022 Recap
Fall Induction Weekend
Vigil Weekend & more