Annual Fees
To remain active within the lodge members must make an annual fee payment. Each payment covers one year of Lodge membership extending from January 1st to December 31st. Payments can be made online by clicking below, at any lodge event, or at the council service center during normal business hours.
Membership fees are $15.
Members inducted during the Summer or Fall Induction Weekend have already paid for the following year.
Members inducted during the Spring Induction Weekend have paid for the remainder of that calendar year.
To check the status of your membership contact lodge70@lodge70.org.
Lifetime Membership
Tsoiotsi Tsogalii Lodge honors a modified tradition of lifetime membership. This tradition is not recognized by the national order and thus is not transferable to other Lodges.  In order to maintain this status, you must also be registered as a member of the Boy Scouts of America and active at the Unit, District or Council Level.  Failing to maintain BSA membership in some position every year will cause your "Lifetime" status to lapse and your name to be removed from the Active membership of the Lodge. Lifetime membership covers lodge fees for a maximum of 20 years.
To inquire about lifetime membership contact lodge70@lodge70.org.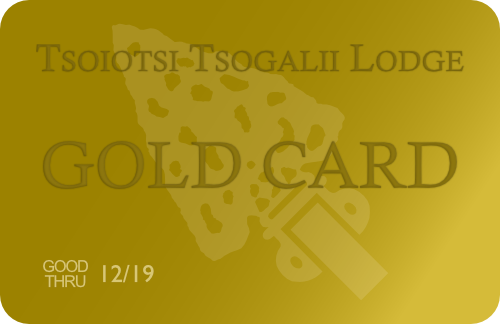 Purchasing a Gold Card allows members to pre-pay for all annual lodge events. Gold Card members enjoy an easier and faster check-in process. By pre-paying, Gold Card holders benefit with $15 cost savings compared to registering for each event separately. The cost for a Gold Card is $80 and covers both fellowship events and all three induction weekends.