Section E8 Cardinal Conclave
2023 Conclave scheduled April 14-16, 2023 at Camp Boddie, Blounts Creek, NC
Please visit the section website https://oae8.org/conclave/ for the latest updates and information about Conclave.
The section conclave is an annual activity (prior to 1972 known as an Area OA Conference) involving the six lodges in Section E8 (Formerly SR-7B).  Each conclave is led by section youth officers elected from among the member lodges at the previous year's conclave, and the event itself is prepared in cooperation with various other lodge officers, and with one lodge serving as the "service lodge".
The E8 Section Conclave is a gathering of over 1200 Arrowmen that occurs once a year in April at a Boy Scout camp in our Section. In short, its a great weekend of fun, training, and fellowship!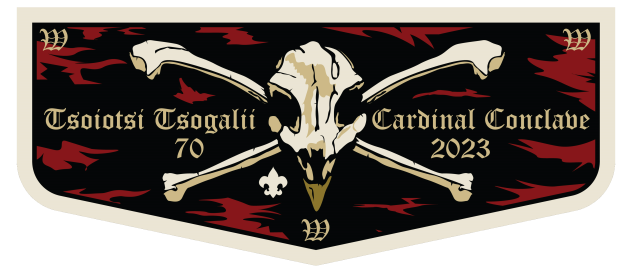 Each Arrowman who attends the 2023 Conclave with the lodge contingent will receive one of our 2023 Lodge Conclave Flaps in their spirit pack. Our conclave theme is "pirates".  To ensure you have your 2023 Lodge Conclave Flaps for wearing/sharing/trading during the conclave, we will offer you the opportunity to pre-order the patch by visiting  https://scoutingevent.com/070-conclaveflap.
The pre-order deadline is Sunday, March 12 at 11:59 pm.