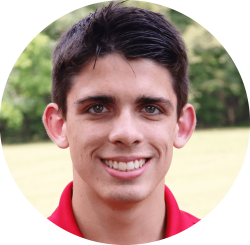 Parker Stewart
Lodge Chief
Parker is a junior at Northern Guilford High School where he runs track and cross-country. He has served as Lodge Vice-Chief of Service, Special Projects Chairman for the 2018 Conclave among other positions. An eagle scout at troop 103 in Summerfield and a vigil honor member, Parker is on staff at Cherokee Scout Reservation as a Leadership instructor.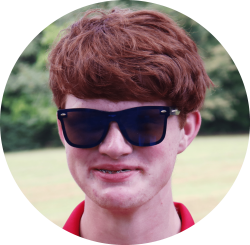 Kenan Boswell
Lodge Vice Chief of Program
Kenan is a Senior at Davie County High School where he participates in tennis and band. He has served as Program Chairman, Keyauwee Chapter Chief and Vice-Chief of Indian Affairs. He is very involved AIA as a fancy dancer. Kenan is an eagle scout with troop 732 in Mocksville and is on staff at Cherokee Scout Reservation as a STEM instructor.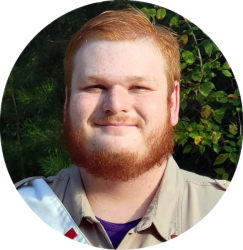 Jacob Perkins
Lodge Vice Chief of Communications
Jacob is an Assistant Scoutmaster and Eagle Scout from Troop 4019 in Burlington, and a Junior at Guilford College studying Religion and Accounting. He served on Cherokee Summer Encampment Staff as Office Manager and member of the Ranger Corps in 2020, was the Alamance Chapter Chief for the last three years, and the Vigil Committee Chair for the last two years. Prior to that he served as Chapter Vice Chiefs of Program, Administration, and Communications, and the Lodge Records Committee Chairman. He was awarded the Vigil Honor in 2017. Jacob is excited to improve the communications from the lodge and to enhance the experience of every Arrowman in Tsoiotsi Tsogalii 70.

Calvin Meyers
Lodge Vice Chief of Administration
Calvin is a junior at Piedmont Classical High School in Browns Summit, where he is a swimmer. He is on staff at Cherokee Scout Reservation as a FROGS instructor. Calvin is an eagle scout with troop 118 in Greensboro.

Anthony Mills
Lodge Vice Chief of Service
Anthony attends Davidson County Community College, where he is studying Zoo and Aquarium Science. He is on staff at Cherokee Scout Reservation where he is a STEM instructor. Anthony is an eagle scout at troop 575 in Mocksville.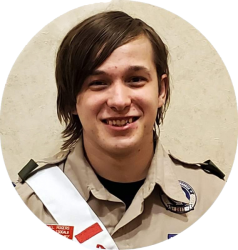 Michael Rogers
Lodge Vice Chief of American Indian Affairs
Michael is a member of Troop 781 and is a freshman at Randolph Community College. He has served on camp staff at Cherokee Scout Reservation for several years, and is an active member of the Lodge. He can always be relied upon to step in and help whenever needed at events. His goal for this term is to provide the best possible experience for folks already involved in American Indian Affairs, as well as to bring others into that program. He has a strong passion for Indian Affairs, and strives to inspire that lifelong passion in others. He was awarded the Vigil Honor in 2020.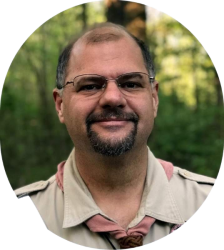 Drew Maerz
Lodge Adviser
Drew is an adult leader in Venturing Crew 278 in Asheboro and is the Director of Testing and Accountability in Asheboro City Schools. He has served Keyauwee Chapter and our Lodge for several years helping with service and always lending a helping hand when needed. He served on Cherokee Summer Encampment Staff in 2020, has served on Woodbadge staff, and is currently a member of the Uwharrie District Committee and the Old North State Council Camping Committee. Originally from Pennsylvania, Drew enjoyed Scouting as a youth and now enjoys Scouting as an adult with two children who love the outdoors. Drew believes that we have the right youth and adult leaders for the Lodge to grow, expand, and offer an excellent program. He recognizes the benefits of Scouting and the Order of the Arrow and is grateful that the program is now open to all youth. He was awarded the Vigil Honor in 2020.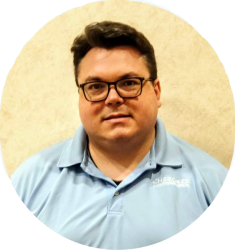 Bud Harrelson
Lodge Staff Adviser
Bud is the Director of Cherokee Scout Reservation and Strategic Initiatives, and has been involved with Scouting for many years in multiple roles. Prior to becoming a professional Scouter, Bud was active as a youth and adult volunteer. He served as lodge chief of Tsalagi Lodge and SR-7 section chief. As an adult, he served as our lodge's associate adviser for service before serving as the SR-7B section adviser. Bud served on multiple national committees, including the national Order of the Arrow committee. He also has a background in education at the school and district level. He was awarded the Vigil Honor in 1993 and the National Distinguished Service Award in 1998. Bud (and his dog Brody) look forward to supporting the lodge chief and lodge adviser in their goals, and guiding Tsoiotsi Tsogalii into a bright future with a strong program.
Running for a Lodge Position?
If you are planning on running for a lodge position in the coming year, please read and complete the lodge officer nomination form to have a greater understanding of what it means to be an officer in our lodge.