Anthony Mills
Lodge Chief
Anthony attends Davidson College, where he is currently studying Zoo and Aquarium Science. Anthony has been on staff for Cherokee Scout Reservation as a STEM instructor. He is an Eagle Scout with Troop 575 in Mocksville and has served as VC Service for the lodge. Anthony enjoys a good hike, Star Wars, and Sushi.

Nic "Texas" Fillippa
Lodge Vice Chief of Program
Texas attends New Garden Friends High School. Texas served at Cherokee Scout Reservation on Trading Post Staff. He is a Life Scout with Troop 216 in Greensboro. Some of Texas' hobbies include baseball and hiking. Texas is also a pronounced Blue Mountain Dew enthusiast.
Camdon Rohrer
Lodge Vice Chief of Communications
Camdon attends Northwest Guilford High School. In his previous lodge, he served as the VC of the Food Committee. Camdon is a Life Scout with Troop 600 in Summerfield. He enjoys any and every activity involving water. Camdon was on Kitchen Staff at Camp Phillips. Camdon is a huge Kanye West fan.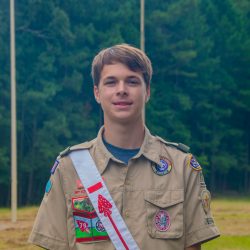 Calvin Meyers
Lodge Vice Chief of Administration
Calvin is a senior at Piedmont Classical High School. Calvin has been the lodge's VC Administration for multiple years and served as recognition chair for SR7B. Calvin is an Eagle Scout with Troop 118 in Greensboro. Calvin has worked on the FROGS staff for Cherokee Scout Reservation. Some of his hobbies include golfing, hiking, swimming, and NASCAR.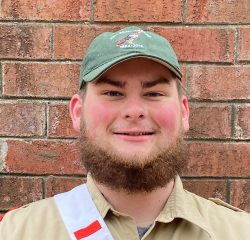 Aiden Treier
Lodge Vice Chief of Service
Aiden is a senior attending Davie High School. He is an Eagle Scout with Troop 575 in Mocksville. Aiden likes band, music, and the trombone. His favorite artist is Childish Gambino. Aiden plays basketball and likes hiking.


Josh Hanflink
Lodge Vice Chief of American Indian Affairs
Josh attends Bishop McGuiness School. Josh is an Eagle Scout with Troop 101 in Greensboro. Josh has had loads of experience with AIA, whether it's dancing, ceremonies, or just basic knowledge. He is a sports fan and plays tennis, baseball, and wrestles. Josh enjoys traveling and has been a CIT at Camp Woodfield.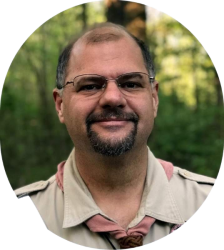 Drew Maerz
Lodge Adviser
Drew is an adult leader in Venturing Crew 278 in Asheboro and is the Director of Testing and Accountability in Asheboro City Schools. He has served Keyauwee Chapter and our Lodge for several years helping with service and always lending a helping hand when needed. He served on Cherokee Summer Encampment Staff in 2020, has served on Woodbadge staff, and is currently a member of the Uwharrie District Committee and the Old North State Council Camping Committee. Originally from Pennsylvania, Drew enjoyed Scouting as a youth and now enjoys Scouting as an adult with two children who love the outdoors. Drew believes that we have the right youth and adult leaders for the Lodge to grow, expand, and offer an excellent program. He recognizes the benefits of Scouting and the Order of the Arrow and is grateful that the program is now open to all youth. He was awarded the Vigil Honor in 2020.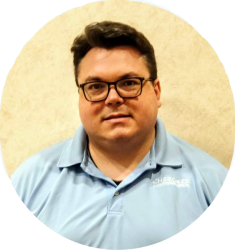 Bud Harrelson
Lodge Staff Adviser
Bud is the Director of Cherokee Scout Reservation and Strategic Initiatives, and has been involved with Scouting for many years in multiple roles. Prior to becoming a professional Scouter, Bud was active as a youth and adult volunteer. He served as lodge chief of Tsalagi Lodge and SR-7 section chief. As an adult, he served as our lodge's associate adviser for service before serving as the SR-7B section adviser. Bud served on multiple national committees, including the national Order of the Arrow committee. He also has a background in education at the school and district level. He was awarded the Vigil Honor in 1993 and the National Distinguished Service Award in 1998. Bud (and his dog Brody) look forward to supporting the lodge chief and lodge adviser in their goals, and guiding Tsoiotsi Tsogalii into a bright future with a strong program.
Running for a Lodge Position?
If you are planning on running for a lodge position in the coming year, please read and complete the lodge officer nomination form to have a greater understanding of what it means to be an officer in our lodge.