November 12-14, 2021
Cherokee Scout Reservation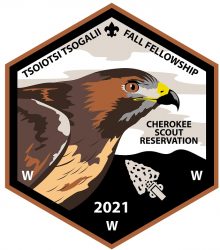 Fall Fellowship promises to be a fun, safe event for Scouts and Scouters alike to join at Cherokee Scout Reservation for a day of activities, fun, and celebration.
During the morning, from 9:00 – 12:00, Arrowmen will participate in a pre-determined activity. As part of the registration process, Arrowmen (Scouts and Scouters) will indicate their first, second, and third choices for morning program. We plan to keep participants in groups of 10 and conduct most of the program in open-air shelters will good natural ventilation.
Choices for morning activities include: woodworking, metalworking, skeet shooting, fishing, hiking camp's new 5-mile trail and geocaching, a chess tournament, Magic card game tournament, leather-working, an emergency services demonstration, American Indian Affairs activities, leadership training, or hanging around the trading post/dining hall area.
During lunch, Scouts and Scouters will meet by chapter to elect chapter officers.
After lunch, we will gather socially distanced in the council ring for lodge elections, recognition, and entertainment.
The day's events will culminate with a patch auction, and eligible Arrowmen will have the opportunity to convert to brotherhood.
Participants will depart camp before supper.
We hope to see you there, register today!