The SR-7B Cardinal Conclave will be one of the largest Scouting events in 2017. With over 1400 Arrowmen in attendance from all over North Carolina and special guests from Texas and Virginia, this year's conclave will not only be the largest event you attend but also the most fun. Conclave will be held at Camp Raven Knob in beautiful Mt. Airy, North Carolina on April 21-23.
---
Conclave Overview
Activities during Conclave cater to every Arrowman's favorite program. Section level ceremonies, drumming, and singing workshops are available for those who have an interest in AIA. Arrowmen who love trading patches will have an opportunity to do that Friday through Sunday. Our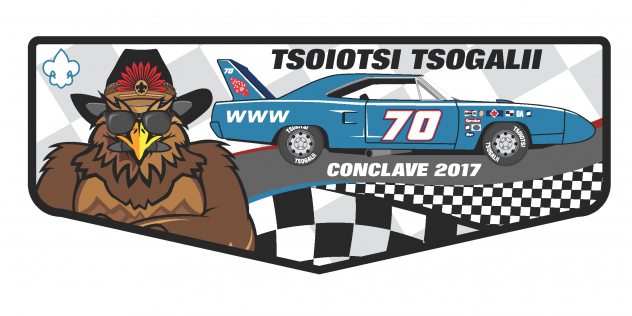 lodge and every other lodge will offer patches for trade and sell. The flap featured to the right is our delegate patch which pairs well with the dangle patch offered at Spring Fellowship in March.
Conclave is also an excellent opportunity to showcase great things our lodge encompasses as well as our spirit. Part of the attendance fee will be memorabilia items that coincide with our lodge theme: racing. During the day there on Saturday the section training event: OAX will feature over 50 exhibitors sharing outdoor and other opportunities from all over the state and region.
Don't miss this exciting opportunity to have fun and make new friends!
---
Registration and Travel Information
Conclave will be held in Mt. Airy, NC at the following address on April 21-23.
Camp Raven Knob
266 Raven Knob Road
Mt. Airy, NC 27030
Anyone under the age of 18 at events end must travel in the accompaniment  of an adult. This is to conform with the BSA travel policy published in the Guide to Safe Scouting.
All delegates from the lodge should plan to arrive before 7:30pm on Friday and check in at a soon to be designated shelter near Cherokee, Iroquois, Apache, and Shawnee campsites. Vehicles may not be allowed to pass through camp once the opening show has started. Parking passes will be emailed out shortly prior to the event, with our lodge keeping vehicles in Catawba campsite, just down the road. It is important to note that vehicles will not be allowed to stay in the campsite during the weekend. Plan to depart Raven Knob around 11:00am on Sunday. Expect a large amount of traffic at both ends of the weekend due to the large number of people in camp.
Registration must be completed at the following link prior to April 17, 2017. The registration fee is $35 for Conclave with the lodge fee of $10 totaling to $45. This must be paid during registration and cannot be paid at a later date. The delegate pack will include a lodge flap, event patch, spirit items, a map/schedule, and other items included by the host lodge.