First Year Arrowmen Award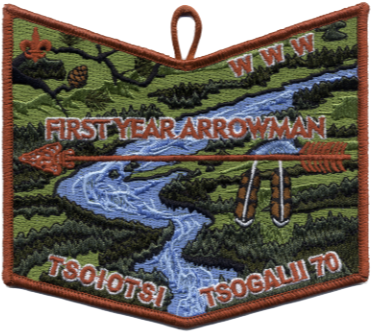 This new award provides recognition for those Arrowmen who maintain active participation during their first year of their membership. The requirements are structured to provide guidance and exposure to the opportunities for leadership and service in the lodge. Take a  look at the requirements below and print off the pdf checklist to get started earning this special award. Remember you only have one year.
NOTICE
During 2017-2018 all Dues Paid Arrowmen, regardless of tenure, may earn this award. This is a one-time opportunity for any current Arrowman to complete this recognition, and earn this unique patch! This opportunity will not be repeated.
Time is running out. Completion forms must be turned in by Friday of Fall Fellowship.
These requirements must be completed in your FIRST year of membership
Activity
Approved By
Complete all of the following
Achieve Brotherhood membership in the Lodge
Confirmed by Lodge
Attend at least four (4) Chapter meetings:
Chapter Advisor
Complete two (2) of the following
Register and attend Spring Fellowship
 
Register and attend Fall Fellowship
 
Register and attend Section SR7B Conclave
 
Complete two (2) of the following
Serve on a Unit Election Team and help conduct at least two (2) unit elections - in a unit other than your own
Chapter Elections Advisor
Serve as an Elangomat for an Ordeal Weekend
Elangomat Advisor
Participate in an Ordeal or Brotherhood ceremony
Ceremony Advisor
Join the Dance or Drum team and exhibit your skills at Conclave or a Lodge event
Indian Affairs Advisor
Attend the Lodge Leadership Development Program
Lodge Chief
Participate in Lodge Beaver Day or Chapter Day of Service
Chapter Advisor
Join the Lodge Program Team and assist with one Lodge Event
Program Advisor
Join the Lodge Communications Team and assist with one Lodge Event
Communications Advisor
Join the Lodge Administration Team and assist with one Lodge Event
Administration Advisor