Our lodge's stew sale is upon us again. This is the one time a year where our lodge raises money to support our operations and even gets you set up with a great winter meal! This page is here to give you access to the resources you need to make selling stew successful.
Payment Details:
Each quart of stew is $ 7.50
To make payment more simple while at camp please plan to make your purchases in cash or check(made to Old North State Council). You must pay for the full order when you pick up your stew. To make this easier we suggest you collect money from your customers when they place an order.
Pick up/Delivery:
You will be responsible for picking up your stew during Fall Fellowship either on Saturday afternoon(Nov. 9) or Sunday morning(Nov. 10). To reduce complications you will also be responsible for delivering stew to your customers after pickup. You will need to pay for your entire quantity of stew before you receive your order.
Questions?
Please contact lodge70@lodge70.org for more information on the stew sale.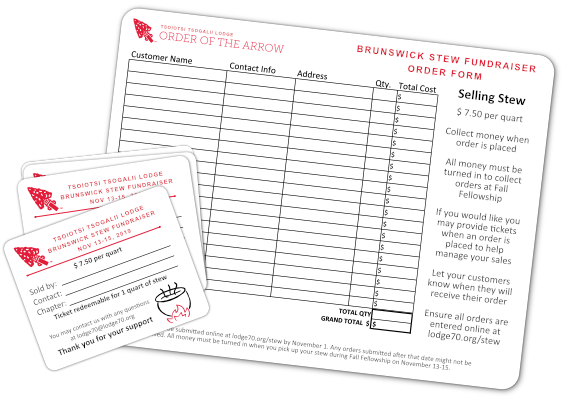 Stew sale tickets and and order tracking forms are available to assist you in managing and organizing your stew sales.
TICKETS (pdf)
ORDER FORM (pdf)
FLYER (pdf)
Top Sellers:
The top three youth stew sellers will be rewarded for their efforts. So get out and make those sales.
1st Place: $80 Gift Card to Scout Shop or Trading Post
2nd Place: $40 Gift Card to Scout Shop or Trading Post
3rd Place: $25 Gift Card to Scout Shop or Trading Post
Current Sales Leaders
| Place | Name | Quarts |
| --- | --- | --- |
| First | ~ | ~ |
| Second | ~ | ~ |
| Third | ~ | ~ |
| Fourth | ~ | ~ |
| Fifth | ~ | ~ |
Check back often to see who is in the lead.
If the stew order entry form is not correctly displaying below, as may be the case on some browsers and mobile devices you can click here to open the order entry form in a new window.